Testimonials at Copperfield Equine
Catherine Cooper Lic Ac CVA CVHM has worked for many years with a range of regular clients, and would like to take this opportunity to thank them for their ongoing support over our 30 years in business.
Nicole Ridgway, Arizona, USA- October 2022
Here are the other horses that have done your protocol in the past:
Bodi: 8 year old Bay Gelding and was diagnosed with stage 3 Wobblers and a severe club foot at the vet before being treated with the protocol. He is now jumping around courses up to 3'6 and much more balanced. Still has the occasional trip but overall is doing great!
Mumford: 9 year old Bay Gelding and was diagnosed with shivers at the vet before being treated with the protocol. Vet recommended either putting him down or retiring as a pasture pet. He did the first protocol when he was 2 years old and again when he was 7 because of an assumed collateral ligament injury and bone cyst.  He is now jumping around courses up to 4 feet and doing excellent! He is sensitive to touch back legs but other than that is doing really well!
Marilyn: 8 year old mare with history of laminitis. Vets told us she would not recover before the protocol. She is now starting her jumping career and farriers are amazed by the improved angles of her feet. No current issues.
Julie Griffin, Floria- Oct 2021
Catherine,
Just wanted to drop you a note that things are going so well for Forrest. He won all 4 classes of 2-1 this weekend with CDI judges. He scored a 67, 68, 69, and a 74%. This was his debut in second level and first time indoors. We won 2021 USDF All Breeds award In KWPN First level reserve Champion in silver stirrups AA Division. Ranked 19 in the US. He handled the pressure, enjoying the sport and he is such a great AA horse. Not bad for a Six year old. Thank you so much for what you do, we couldn't do it without you.
Thank you again, your work saved my horse from a sad life. Julie Griffin October 2021
 Lucy Townsley, Ireland. 2021
I would like to thank Lucy for her dedication, loyalty and commitment to little Fairy's healing process that her beautiful pony Fairy endured throughout his healing crisis. I am so happy for them as they continue to experience happy, wonderful and in particular such successful days out competing and continued good health. Thank you Lucy for sharing these videos as it may inspire others to know that horses can indeed be healed from Laminitis.
December 2020
Fairy just after been diagnosed with severe laminitis
Fairy Competing at Cavan Equestrian this summer.
Twelve months post treatment Lucy and Fairy in good health
Chris Delcros Racehorse Trainer July 2017
This is Ross who came to Copperfield clinic, he had some severe liver problems and many other unresolved systemic issues, he also had chronic Respiratory disease including EIPH, and he was seriously emaciated on arrival. Post treatment and a three month stay at Copperfield here are the photos of his gradual improvement. He finally went on to win his first race at the age of 10, and remains healthy and well today in his retirement.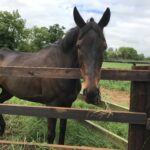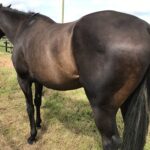 Johanna Pelling Oct 2021
Thought you might like to see these photos of Jensen, taken yesterday during our weekly lesson. He is looking and feeling awesome!
So grateful to you and the Copperfield protocol for giving Jensen a new lease of life – thank you!
Best regards, Johanna Pelling, uk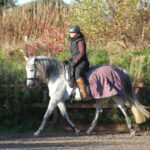 Boomer with Neurological  symptoms associated with Bartonellosis
Thank you Copperfield Equine, and Catherine Cooper for saving my horse!! We went down many dead ends with strange symptoms that mimic other diseases such as EPM, Shivers, EPSM and even Wobblers Syndrome. We were considering euthenasia because he was so unsteady and miserable. But you recognized my horse's symptoms right away as a co-infection of his earlier Lyme infection from "across the pond" and we started him on your Bartonella and Mycoplasma treatment. We have unbelievable results! We call the treatment his Irish Lucky Charms! We have strenthening to do of course and a ways to go, but without question, he is recovering. It has not even been 3 months and the changes are remarkable. Thank you for all you are doing to save theses horses! Susie
Katie Frazer shared Bridestown Towers Equestrian Centre.
23 February 2019
Izzy is starting to really come on now, just shows how what Catherine does truly helps them! Izzy hasn't jumped 1.10 since November 2014, and all through 2015 I found it hard to even complete a round of 90s, she hasn't sji'd since august 2015, and was diagnosed with KS via xrays in sept. 2015. I hummed and hawed on what to do next, last year after leaving her off for a while and bringing her back to work slowely we entered a few riding club events, which she showed to be going OK over 90s, then we met Catherine….after time off, and treatments from Catherine 6 months down the line and shes feeling great and is back up to 1.10 ! Looking forward to an exciting summer with this one! All thanks to catherine!
Aileen Sloane Lee/ Andrew Lee – Race – Horse Trainers – March 2008
"Catherine Cooper is a master of her profession in the field of acupuncture. I have employed Catherine to treat my horses over a fifteen year span. Catherine's accurate diagnosis after one acupuncture treatment gives you the complete answer to why your horse is not performing and if it has a future, outlining problems from wind, heart, lungs, stomach ulcers, liver, kidneys and foot problems. Catherine is constantly studying, upgrading her treatments and administrating suitable herbs. She compliments her work with an excellent range that treats problematic areas that are often camouflaged by conventional treatment.A dedicated, relentless and highly accomplished horse therapist, Catherine's skills are vital to any equine establishment."
Claire Higgins Year- July 2013
"A fortnight before the IPS championships in Cavan and three weeks before the Dublin Horse Show our pony went lame. We really were at our wits end and were beginning to accept that she was going to miss the two biggest shows of the year; that was until someone told us to try Catherine Cooper in Limerick. Catherine said the pony was "full of toxin".
She performed her routine on the pony and treated her with acupuncture and after that she advised us on how to feed the pony and gave us herbal remedies to treat the pony with at home. We noticed an immediate improvement and over the next few days the pony started to come sound. Within a week the pony was back at work and moving better than ever. By the time of the big competitions the pony was completely sound and ended up winning at both shows."
Myles Sunderland –  Race horse trainer, Feb 2010
"Catherine Cooper has treated my horses for the past seven years, during this period she has uncovered and treated many symptoms both internally and externally, which had previously remained undetected and in my opinion she has no equal in diagnostics. Her level of care and attention to detail is superb and I have no hesitation in recommending Catherine's services. My horses have benefited greatly from her experience and knowledge and will continue to do so."
Tony Lewis – Race horse breeder/ owner, 2009
"I have known Catherine for ten years and over this period she has become my person of choice in treating any of my horses when sick or injured. I have particularly found Catherine to be exceptional ad diagnosing accurately health issues in my animals and advising on treatments along with her own herbal remedies that have resulted in the animals regaining full health quickly Since getting to know Catherine I have seen her research many health issues with regard to horses and it has resulted, in my opinion, in new herbal formulas developed by her that I find are getting excellent results in curing a broad spectrum of health issues in my horses. I would particularly like to see Catherine keep up this very important part of her work but I understand it takes time and research resources. I have introduced Catherine to a number of my friends in the horse business and nearly all now use her services regularly when having health issues with their horses. All are very complimentary of her great work. "
Daniel JP Barry, Racehorse trainer 2008
I have been involved in the racing industry for the last 25 years and set up my own training establishment in Thurles, Co. Tipperary, 3 years ago. Whilst there an owner recommended Ms. Cooper to me. She began to treat many of the horses I had with great success and my owners were delighted with the results they were seeing each time they would come down to check on their individual horses progress.  Since then, Ms. Cooper has treated many horses for me with amazing success each and every time. She is the only person I choose to treat my horses because she is extremely well trained in her field, dedicated and passionate for what she does and above all her success rate is the highest that I have personally seen."
Terré McNamara – Golden Vale Stud, 2005
We have known Catherine Cooper for the last 10 years during which time she has treated many of our horses on the stud as an alternative to conventional veterinary treatment.
The results have been excellent, so we can unhesitatingly recommend her work."